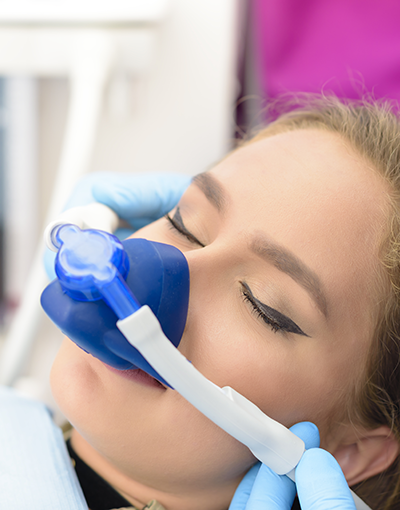 Nitrous oxide, a mild, colorless, and sweet-smelling sedative mixed with oxygen, is a safe and effective method of sedation used by many pediatric dentists. Nitrous oxide, or "laughing gas," is helpful in keeping your child comfortable and anxiety-free throughout the procedure, keeping parents at ease.
Using Sedation in Children's Dentistry
Using sedation during a dental procedure is designed to keep your child comfortable and virtually pain-free, easing any anxiety associated with a procedure. With laughing gas, your child will inhale nitrous oxide through a small mask that fits just over their nose. Your child will breathe normally, and the effects will take place in minutes. Your child should not experience adverse effects, and the American Academy of Pediatric Dentistry reports that less than 0.5% of children have nausea or vomiting. To help your child feel well, have your child avoid eating for 2 hours before the procedure.
Nitrous oxide is never used as a general anesthetic in a dental setting and the purpose is not to put the patient "to sleep." Depending on the procedure, your child's dentist may use a local anesthetic to fully numb the area if necessary. Although side effects are rare, some uncommon side effects are nausea, vomiting, headache, and/or drowsiness or disorientation.
Types of Sedation
There are several different types of sedation, but there are 4 main types used in pediatric dentistry and they all play a different yet important role for dental procedures. Here's what you need to know about the 4 main types of sedation we use:
Nitrous oxide: Nitrous oxide, commonly known as laughing gas, is a mild sedative used to ease anxiety related to the procedure or a hyperactive gag reflex. Nitrous oxide is a safe and effective sedative that works quickly by inhaling the agent through a small mask placed on your nose. Your child will be relaxed and stress-free for the procedure!
Mild to moderate sedation: With mild to moderate sedation, your child will be awake but calm and sleepy for the procedure. This type of sedation is typically used on older children, and keeps the patient awake enough for the dentist to communicate with them. Patients are able to breathe on their own and be comfortable throughout the procedure.
General anesthesia: When using general anesthesia, your child will be completely asleep and experience no pain. The sedative is administered by a specially trained anesthesia professional, like an anesthesiologist, and will be present to monitor your child while the dentist performs the procedure.
Deep sedation with IV: Deep sedation is administered intravenously to help your child sleep during the procedure. Like general anesthesia, deep sedation requires an anesthesia professional to be present alongside the dentist to monitor your child.
Benefits of Using Nitrous Oxide in Pediatric Dentistry
Nitrous oxide is a simple, safe, and effective form of sedation that is commonly used in pediatric dentistry. Nitrous oxide works quickly to relax patients and provides a rapid recovery as it is quickly eliminated from the body. Following the procedure, the patient will breathe oxygen for five minutes to help eliminate restrictions for aftercare. It is our goal to keep your child safe and comfortable for the duration of their procedure. 
Is Nitrous Oxide Safe For Children?
The American Academy of Pediatric Dentistry states that nitrous oxide is safe for children and is easily tolerated. The use of nitrous oxide can help expedite dental procedures with its rapid onset, reversibility, and its ability to ease even the most nervous children. Plus, most kids report feeling a warm or tingling feeling with laughing gas. In addition, our dentists follow the American Academy of Pediatric Dentistry which provides safety guidelines for sedation dentistry to ensure the safety of your child.
Post Sedation Procedure Instructions
Following a procedure using sedation, your child may feel groggy, uncoordinated, giggly, and sometimes nauseous. Monitor your child and allow them to rest and get comfortable once the procedure is over. Give them soft, lukewarm foods like mashed potatoes, smoothies, and lukewarm soup. Encourage your child to drink water so they remain hydrated. If there is any swelling present, use an ice pack to help reduce the swelling.
Our dentists at Dentistry for Children Maryland are well-trained in sedation dentistry and they're here to keep your child safe, comfortable, and healthy throughout their procedure. Talk to your child's doctor if you have any questions or concerns about sedation dentistry.