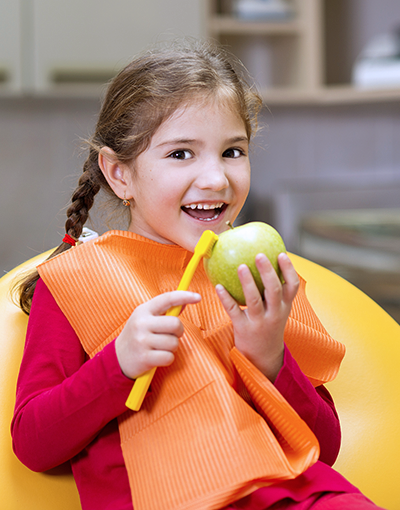 Great dental hygiene starts with routine cleanings for your child with a pediatric dentist. At Dentistry for Children Maryland, our dentists are experts in keeping your child's smile happy and healthy. We recommend bringing your child in for their first visit by age 1 or when their first tooth has erupted. Our team of experts specialize in kids, including those with special needs, and we'll take the time to make sure each child feels comfortable. Your child and their dentist will be buddies before you know it!
At Your Cleaning Appointment
During your child's first visit, their dentist will gather baseline information to evaluate how your child's teeth will grow and fit together, as well as look for the presence of a lip tie and/or a tongue, discuss proper brushing techniques, nutrition and snacking habits, and pacifier and thumb sucking habits.
Once it comes time for routine cleanings, typically around 3 ½ years of age, our dentists introduce the "tell, show, do" approach. This helps your child understand what is happening throughout the cleaning and become comfortable with how each appointment will go. We encourage patients and parents to become familiar with the office during their visit to get to know their surroundings. This approach allows patients with sensory issues to become well acquainted with the environment and grow to love a trip to the dentist!
Why Regular Dental Cleanings are Important for Kids
Regular dental cleanings set children up for a lifetime of healthy smiles! Starting healthy dental habits early help children develop proper techniques for oral hygiene and build a great dental health regimen. Your child's visit is customized for their needs. Your child's smile is as unique as their personality! These regular dental cleanings allow our dentists to measure the developmental progress of your child's smile, their dental hygiene and snacking habits, and check for any potential issues that we need to address so your child's healthy smile will last a lifetime. Our "tell, show, do" approach gets your child involved in the process and gives them an opportunity to play a role in their oral health.
Schedule a Dental Cleaning Appointment for Your Child Today
Our dentists utilize our routine cleanings to support the work you and your child are doing at home! Schedule your child's next cleaning with Dentistry for Children Maryland and we'll help your child become invested in their smile.
Kids Dental Cleanings FAQ
When Can Toothpaste be Used to Clean a Child's Teeth?
You can use toothpaste as soon as your child's first tooth erupts! For children 0 to 3 years old, we recommend using a smear, or rice-sized, amount of toothpaste. For children 3 to 6 years old, we recommend using a pea-sized dollop of toothpaste. Be sure to perform or assist your child with brushing, and if they are unable to spit on their own, position your child where the toothpaste can run out of their mouth and be wiped away.
What is a Fluoride Treatment?
Fluoride treatment is a gel or varnish that is painted on your child's teeth to help strengthen the enamel of their teeth. Fluoride is applied following a routine cleaning, and the application takes no longer than a few minutes. It is a safe and effective treatment to help your child have a healthy smile for life!
Can Cavities be Avoided?
There are ways to avoid cavities and keep your smile happy! Practicing proper brushing techniques, like brushing twice a day and flossing daily, will help decrease your risk, but here are a few other things to remember:
Avoid sugary foods
Limit snacking
Use a fluoride toothpaste
Ask your dentist about a fluoride supplement
In addition, ask your child's dentist about sealants during their next appointment. They will be able to help you and your child decrease the risk of cavities and tooth decay and keep their smile bright!
How Often Should We Change a Toothbrush?
We recommend changing your child's toothbrush every 3 months. A toothbrush can become worn out and less effective than they once were. Changing out your child's toothbrush every 3 months ensures their mouth is staying clean and healthy. If your child has gum disease, we recommend changing out their toothbrush every 4 to 6 weeks to keep the bacteria from harboring in the bristles.