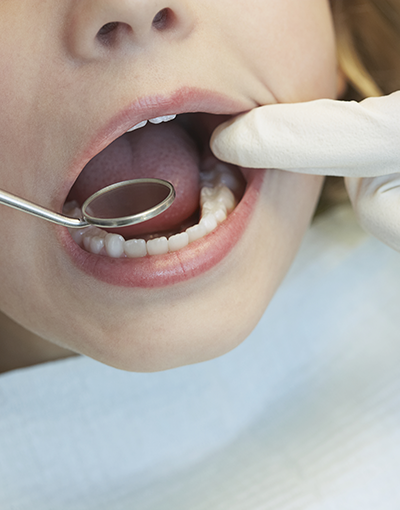 Dental fillings are a quick, simple procedure to restore your child's tooth and bring their smile back to optimal health. Dental fillings, or composite fillings, are a non-toxic, durable material, and are typically tooth-colored to be cosmetically pleasing and blend in with your child's smile.
What is a Dental Filling Made of?
Dental fillings are a form of dental restoration primarily made of quartz, ceramic, or silica. These durable, tooth-colored fillings provide resistance to normal "wear and tear" and moderate pressure caused by chewing. These composite fillings are used on both front and back teeth to help maintain the tooth's natural color. Some of these materials release fluoride, which helps protect your child's teeth from further decay and decrease their risk to caries. The purpose of a dental filling is to keep your child's smile healthy and bright!
How Can I Prevent Needing Dental Fillings?
Prevention is the key to a lifetime of healthy smiles, and there are a few ways you can decrease the risk of cavities and the need for a dental filling. You can follow these few simple steps:
Brushing twice a day with a fluoridated toothpaste
Flossing daily
Eating a balanced diet and limit snacking
Scheduling a dental visit every 6 months
Why Does My Child Need Dental Fillings?
It may seem unnecessary to fill a baby tooth, but even though they will fall out, they are just as important to your child's future dental health as their permanent teeth. Cavities can quickly progress in baby teeth and can lead to infection, trouble chewing, and in some cases, malnutrition. Getting these cavities filled can lead to happier and healthier smiles, reduce the risk of pulling any primary teeth early, and help prevent dental health issues down the road.
What are the Benefits of Getting Cavities Filled?
A dental filling will help stop tooth decay in its tracks and restore your child's mouth back to optimal health. Filling a cavity strengthens weakened teeth and eliminates the pain and sensitivity that comes with having a cavity. Our dentists will make the procedure easy and painless to ensure your child experiences the many benefits of a healthy smile.
Call to Book Your Child's Appointment!
Contact one of our conveniently located Maryland offices to schedule your child's next appointment!
Pediatric Dental Fillings FAQs
Will the Filling be Painful?
A dental filling should not be painful. Thanks to local anesthesia, the area will be completely numbed by your child's dentist. Before the procedure, your dentist will apply a topical numbing cream to prepare the site for the local anesthesia. Once the topical cream has set in, the dentist will administer the local anesthesia and keep your child comfortable throughout the procedure. In some cases, your child's dentist may also use nitrous oxide to ease any anxiety they may have about the procedure.
How Does the Dentist Choose the Best Filling for my Child?
Your child's dentist will consider several factors when choosing the best filling material for your little one. They will determine the best filling by looking at where the cavity is located, the size of the cavity, your child's age, their dental history, and the durability needed for your child's activities.