Welcome to Dentistry for Children Potomac!
Premier Pediatric Dental Care From Birth to Young Adulthood
Potomac
Conveniently located in the Potomac Promenade Mall!
9812 Falls Rd.
Suite 118
Potomac, MD 20854
Emergency Contact
For after-hours care for current patients, please call our emergency line:
Meet Your Dentist
Our expert pediatric dentist, Dr. Eric, is highly trained to provide a unique experience and top-notch care tailored just for you. With his specialized skills and a gift for communicating with children, you'll notice the immediate difference of Dentistry for Children Potomac.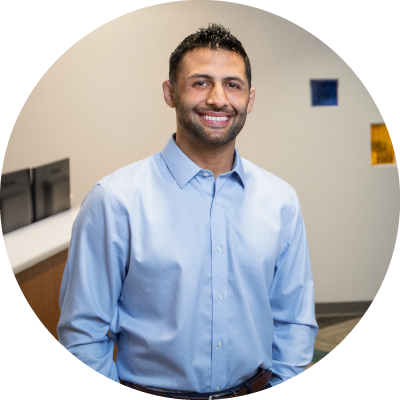 Board Certified Pediatric Dentist
Dr. Eric is a board-certified pediatric dentist and a laser-certified professional. He is an expert-trained provider in the release of tethered oral tissues (tongue and lip ties) and treats babies as young as a few days old, as well as patients from all walks of life.
Dr. Eric is also very involved in the pediatric dentist industry, serving on boards and receiving highly regarded awards. He is a part of the American Academy of Pediatric Dentistry as well as the Academy of Laser Dentistry Professionals. He is a member of International Affiliation of Tongue-Tie Professionals and is specially trained in treating tethered oral tissues. Dr. Eric has also received Northern Virginia Magazine's Top Dentist Award and the Community Dentistry and Dental Public Health Award by the American Association of Public Dentistry.
He values a conservative and comprehensive team approach to ensure the best possible care for patients. Dr. Eric received his BS in Biology at University of Maryland and his DDS at Howard University in Washington, DC. He's an avid DC sports fan, actively involved in the community, and a kid at heart. In his free time, you can find Dr. Eric exploring the world with his wife and three daughters.
Why Choose Us?
At Dentistry for Children Potomac, providing excellent dental care for children of all ages is our mission. Our team delivers an exceptional experience to every patient, so that even the littlest ones will love going to the dentist. Plus, our office is easily accessible inside the Potomac Promenade Mall!
Our board-certified pediatric dentist, Dr. Eric, has undergone years of additional training to acquire the skills necessary to treat babies, kids, and patients with special needs. Simply put, our patients are our top priority, and we are grateful for the opportunity to serve each and every one of them!
The specially trained pediatric dental team here at Dentistry for Children Potomac continues to partner with parents to teach healthy oral hygiene habits that will last a lifetime. From regular visits to proper brushing technique, we are here to help.
Our unique office environment is exclusively designed to cater to children, ensuring a stress-free appointment. Visiting our office isn't just a trip to the dentist – it's an experience that even the most apprehensive patients (and their parents) are eager to repeat!
Our Services
With our highly skilled pediatric dental team, something as simple as an oral exam can be an extraordinary experience. Dentistry for Children Potomac provides a full spectrum of pediatric dental care, plus specialized services like laser dentistry – including laser tongue and lip correction done right in the office. Our care team is led by Dr. Eric, a board-certified Pediatric Dentist who is well versed in the unique oral health needs of children. Now that's something special to smile about.
Dental Cleanings
Dental Fillings
Dental Sealants
Dental X-Rays
Fluoride Treatments
Oral Health Exams
Sedation Dentistry
Sports Mouthguards
Tooth Extractions
Pulpotomies/Root Canals on primary teeth
CO2 Laser Lip/Tongue Tie Correction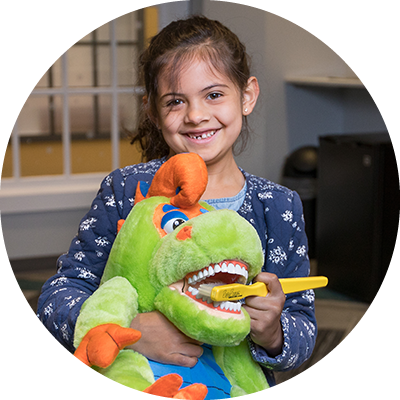 Request an Appointment Form
Reviews
Read our patient reviews to see the excellence provided at Dentistry for Children Potomac!
"My kids love Dr. Eric. He made their experience very fun, easy and painless. He is very knowledgeable, honest and explained everything so my kids understood!"
– Fuad S.
"My 2-year-old son was scared to go in for his first dental visit, but next thing I knew, the assistants were cheering him up, the hygienist had him counting his teeth while she cleaned, and Dr. Eric had him ecstatic with his balloon dog! By the end, he was completely happy and only got upset when we had to leave. Awesome experience!"
– Irfan K.
"I wish we had switched to this office sooner. The best high-tech dental visit I've ever experienced for my kid. Professional, courteous, and friendly staff made us feel like family."
– Mo F.
"The dentist, hygienist and staff we interacted with were absolutely awesome. They were thorough, encouraging, took time to answer questions, and suggested important interventions for my child with special needs."
– Beth Z.